[button color="green" size="medium" align="left" link="https://www.dendy.com.au/VenueTicketing/Start.aspx?sessionId=30717&cinemaId=284a72e0-31dd-4e5c-b0c7-7d5858957b73″]Buy Tickets[/button]MONDAY 9TH SEPTEMBER, 6PM | DENDY OPERA QUAYS
DOCUMENTARY, GERMANY/USA/GUATEMALA, 2011, DIR. ERICK BLACK & FRAUKE SANDIG, 98 MINS,  SPANISH/MAYAN WITH ENGLISH SUBTITLES
The location of the world's largest—and possibly toxic—gold-mine pit, Guatemala is also the homeland of the Maya and their decidedly holistic cosmology. Frauke Sandig and Eric Black's kaleidoscopically beautiful documentary follows the daily and ceremonial lives of six articulate young Maya as they struggle to maintain their way of life.
How does our story end? Does the water change colour? Do the oceans collapse? Does the sky fall as the last tree is cut? The film reveals their determination to resist the destruction of their culture and the environment.
Beautifully filmed over a number of years, the intimate insights of the Maya interweave with imagery of the fragile beauty of nature and the creation myth of the Popol Vuh.

Screens with: The will of the blood, Colombia, Dir. Luis Montealegre
Sponsored by the NSW Government through the Community Relations Commission.
[tabs]
[tab title="Director & Cast"]
Frauke Sandig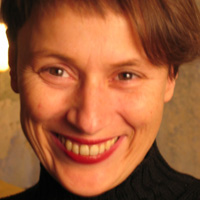 Frauke Sandig (director, producer) was born in Germany. After studying Drama and German Literature in Erlangen, she has worked as a television producer and documentary director of more than thirty documentaries. Her feature length documentary OSKAR & JACKtold the story of twins, separated at birth, who grew up in completely different worlds: one raised as a Jew, the other as a Nazi. The film was screened on numerous international film festivals, shown on public television worldwide and awarded a Golden Gate Award at the San Francisco Int. Film Festival. She is a member of the German Film Academy.
Eric Black (director, producer, director of photography) was born in Ohio. He attended schools in Columbus, Ohio and Florence, Italy and High School in West Berlin. He graduated with a triple-major in Photography, Political Economy and Anthropology with Honors at the University of California and the Chancellor's Award for Art for his photographs of Northern Ireland and attended the Cinema Department at San Francisco State University. The first film he shot (also in black and white) won the Student Academy Award for Western States. He has shot many documentaries since and worked twice with the American Director Jon Jost in Rome. He was awarded a stipendium at the Academy of Arts in Berlin. He was the runner up for the cinematography award at Sundance in 2005 and is currently in the process of publishing a book of his black and white photographs.
[/tab]
[tab title="Awards"]
Winner – 2012 Planet in Focus Film Festival, Toronto:  Best International Feature Film
Winner – 2012 German Nature Film Prize: Audience Award
[/tab]
[tab title="Gallery"]























[/tab]
[tab title="Reviews"]
"The filmmakers attempt to capture a worldview. In their documentary, Chepita and other young present-day Maya speak in their own words without commentary. The filmmakers were in Guatemala and Mexico for more than a year, time to build the deep trust and intimacy required to participate in everyday life and sacred rituals. They brought along their curiosity and understanding. They let the Maya's statements stand on their own and leave their questions open. Powerful images of nature are overlaid with the words from the creation myth, handed down through generations in the Popul Voh, the holy book of the Maya.Giant tortoises come out of the sea to bury their eggs in the sand. The moon plays with the clouds, the shadows with the light.
The directors use our doomsday fantasy to give the contemporary Maya a voice. They in turn explain how they see the world and the real problems that threaten our devastation. Their analysis seems not unreasonable. What prevails today, they say, is another crisis much like the one that brought the collapse of their ancient Mayan civilization. Everyone wanted to amass more wealth; only the natural resources ran out. The 'system' is again reaching its limit. The result is, as one Maya says in the film, 'The era of the people of the corn is coming to an end.'"—Sebastian Erb, Die Vaz 

[/tab]
[/tabs]